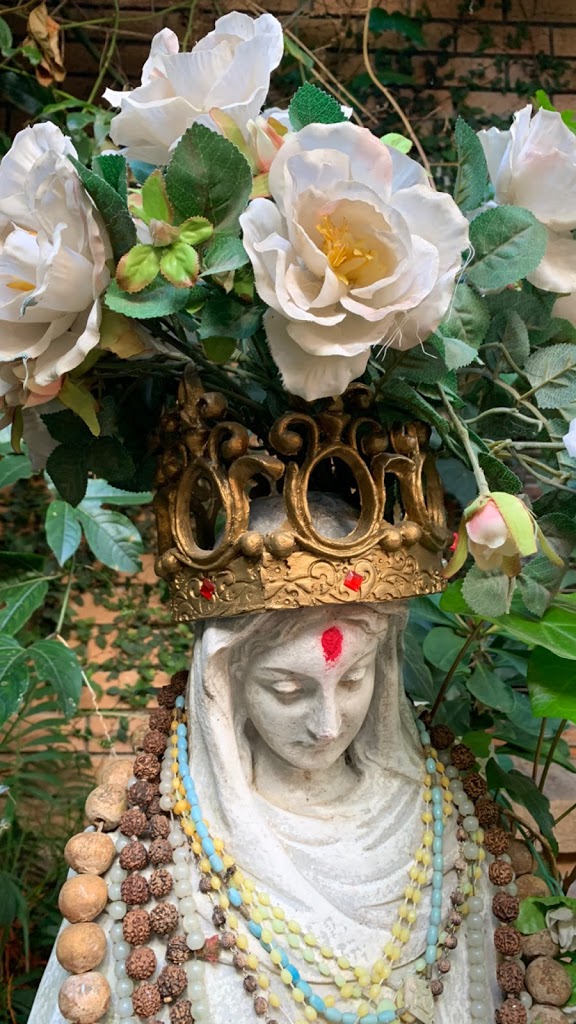 We are forged and fired in the crucible of the heart and art gives life and meaning to our stories.
My prayer is that I share the right medicine for you and that my words will create a sacred altar reflecting the beauty, truth, wisdom and justice which is potent and potential in our world.
The ancient tradition of creating sacred altars used to belong to the Great Mother and her devotees and it was incorporated into religion by the nuns and convents. I call it Sacred Altars and it is my offering on the Altar of Life. Twenty years ago I became a pilgrim to sacred places on the Earth and especially to where the Divine has stepped through the veil to reach us and where Mary had appeared to others. I bring waters from the holy springs and rivers; I bring back oil and salts sanctified by the Presence of the energies at these sacred places. Through the years I have shared all of my pilgrimages with my blog readers and eventually I opened a shop . I bring back my own direct experiences and my own transformation and make sacred altars which I share with others through my shop here on Her Grace Sacred Art..
My journey with Mary started 25 years ago, but it took many years for me to understand and integrate what it is that I am witnessing in my inner world. In the late 1990's I founded a wisdom school called Path of Love. I studied spiritual healing and established a foundation to train others in the healing arts, Shekinah Healing. I worked with sacred drama, sacred dance and myth and my work was featured twice in a documentary program called Free Spirit on national television in South Africa.
In 2001 I undertook my first pilgrimage to Mont Sant'Angelo in Italy. (I share these pilgrimages which are on-going on my Patreon account – link above).
In 2008 I organised the Goddess Conference in Franschoek, South Africa. In 2009 i was initiated into the shakty tantrik tradition as a shaktypat giver and devotee to Ma, the divine feminine. In 2009, during a pilgrimage to the ashram of Sri Anandamayi Ma in Haridwar, India, I received my spiritual name Sri Bhaktymayi Ma. For years it had been my desire to attend the sacred Romani pilgrimage of Sara la Kali; a sacred event that brings the Eastern and Western traditions of divine feminine worship together. I combined this pilgrimage with a stay in Lourdes in 2010 This was a turning point in my life as I understood the messenger and guide in my inner world to have been the Blessed Mary all along. My devotion to Blessed Mary became my lifepath and I accepted the name of Hettienne Bhaktymayi Maria Ma.
In 2014 I founded the Temple of Mary with 12 flamekeepers, with annual initiations and retreats. For years I led healing circles, created sacred drama, led sacred dance workshops and circles and work was featured twice on the SABC (South African Broadcast Company) program Free Spirit. I wrote a monthly column on Tarot for the national magazine Namaste and offered tarot workshops. These spiritual and creative practises led to the creation of The Mysteries of Mary tarot deck, published three years ago. Currently I am working on the Mysteries of the Black Madonna deck and book.
I create from the eye of the heart, rather than the eye of the mind and hope to illuminate and show the underlying image and Divine Presence in the vignette of our personal stories.
Sri Hettienne BhaktyMayi Maria Ma