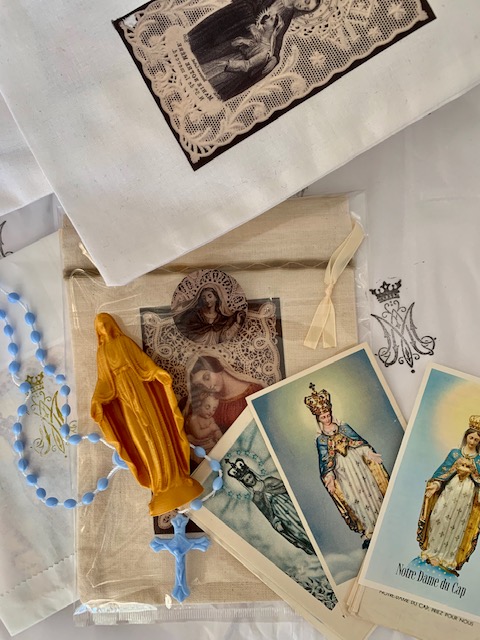 All decks and books have been successfully printed and we have spent days preparing them for shipping.  All parcels are ready to be shipped.  International shipping to some countries have opened up but shipping is slow as not enough cargo planes are available.  I have been advised by the post office not to hand the parcels in for shipping as they will end up in international sorting which already has a backlog.At this stage shipping may start from 15 July but probably only 30 July or even August 2020.
I will send a shipping notification as soon as I ship on both The French Madonna on Etsy.com and for orders bought here on my website. You will receive an email from me as well as an international registered shipping number.
Each parcel contains the Mysteries of Mary tarot deck, guidebook, hand sewn tarot pouch, rosary, gold Mary statue, a vintage holy card and a set of hand crafted blessing seeds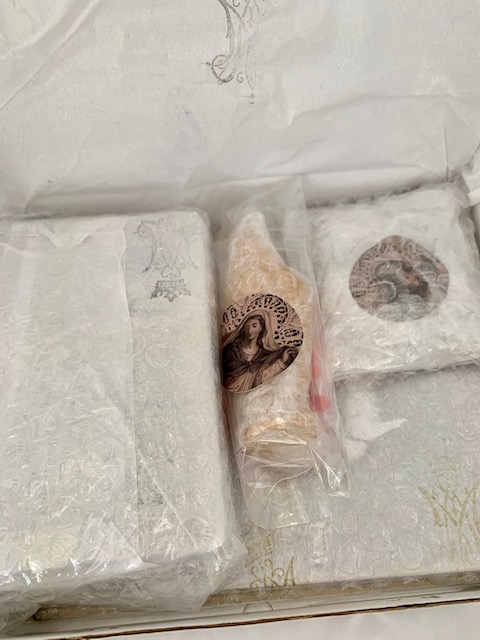 Parcels ready to ship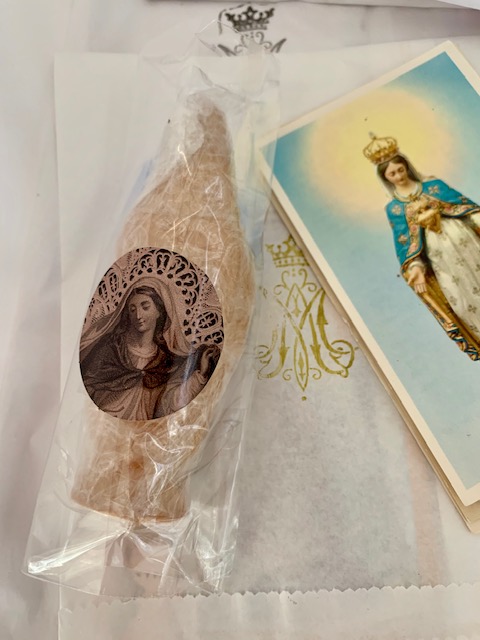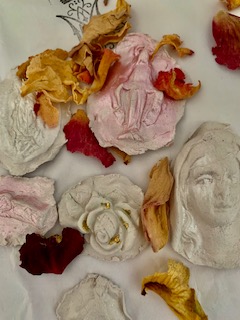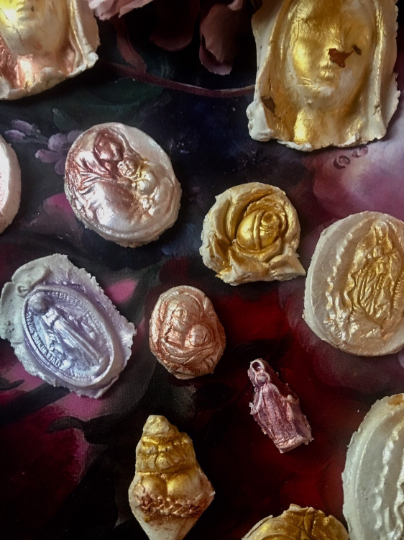 Hand made clay blessing seeds
Bless the earth with these blessing seeds : infuse them with your prayers for healing and plant them, place them on your altar, in your house, on your body for healing and blessings.
I created these blessing seeds from ceramic clay that will deteriorate and dissolve back into Mother Earth when buried. The clay is mixed with holy oil and rose petals from St Terese's garden and petals collected at Lourdes. You can see the bits of rose petal in the big clay pieces. Each piece contains flecks and gold leaf dust which holds energy very well. Each of these clay shards are imprinted with the divine image of Divine Mary and thus contains Her sacred energy. They are sprinkled with water from the healing spring at Lourdes and prayers and chants were said over them for seven consecutive days. They are kept with rose petals of third relic St Teresa of Lisieux roses!! (I do not ship any of the dried rose petals as in some countries it is prohibited to receive plant matter) The images include Our Lady of Guadulupe, Madonna of the Streets, Miraculous Medals, a rose, Mother and Child, sacred heart, miraculous medal, and more.
You can say a prayer whilst holding the seed in your hand, and then make a hole in the ground with your finger and plant these seeds wherever you want healing to take place. This way you can call on Mother Mary as you walk on her earth; you can place these at sacred places; in your garden or at places of sadness and trauma.
Each one of the blessing seeds are first infused with holy water from Lourdes (which I brought back), and then infused with holy relic oil of more than 53 Saints & pure essential oils. A mixture of one hundred oils are used, including frankincense, myrrh, spikenard, agarwood and rose. It is also immersed in blessed pink dead sea salts, infused with rose petals steeped in holy oil of a third relic of St Therese of Lisieux and it is packaged with blessed salts, frankincense and sprinkled with holy water collected form many sacred places in the world. So it becomes a holy object to be handled with reverence and care.
You can place these seeds on your altar or place of prayer or contemplation.
Pray to Divine Mary, She is as close as your heart
Ave Maria
Blessings
Hettienne